To downsize, or not to downsize, that is the question?
With almost 50% of homeowners ready to retire and wishing to stay in their home and 30% of those people with most of their money tied up in home equity, the downsizing dilemma is real. Can they afford to stay in their home or is downsizing the better option?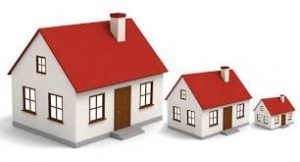 In the past, retired couples or a widow would keep their clear title home and use pension and investment income to live. They would only sell the family home and move into a retirement home when health issues forced the move or upon death of both people. Times have changed.
People are living longer and want to stay in their home. The cost of living has risen and, due to higher home values, the amount of equity in that home is greater than ever. Many home owners are being stretched with their budget and their retirement income is insufficient to maintain their lifestyle.
We have found that many retired people are unable to meet their budget each month and are using a line of credit and/or credit cards. This becomes a vicious cycle and the cost of interest pushes them to the wall and they reach their maximum limits. Then they are forced to sell their home or reduce their lifestyle to manage. Often family members are unaware till it becomes a serious matter. Planning ahead is essential to avoid this situation and lower stress levels for all family members including the aging parent.
In a recent Globe and Mail article, Scott Hannah of the Credit Counselling Society talks about the risks.
Some homeowners now recognize the need to look to their home as a source of income from home equity financing.
There are a growing number of programs designed specifically for homeowners over the age of 55. Each comes with different requirements, advantages and benefits. It is important for retiring or retired people to talk with their family and then in a group with their independent Dominion Lending Centres mortgage broker and financial planner.
For some family members, the next step is for the aging parent to downsize to a new home. For some, it is to stay in the family home and set up an equity plan to maintain a safe place and comfortable lifestyle. Consideration must be made for current income, current budget and future needs.
Pauline Tonkin